Willamette Valley is world-renowned for being one of the best wine regions. Owning real estate in the Willamette Valley offers the best tasting wine from over
500 wineries
, making up over two-thirds of Oregon's wineries. Willamette Valley experiences the perfect weather for wine grape production and produces some of the best pinot noirs in the world. However, there is still plenty of pinot gris, chardonnay, riesling, and cabernet sauvignon to go around. Sip on some of the most delicious wines you've ever had while taking in breathtaking views.
Willamette Valley Wineries
Willamette Valley Vineyards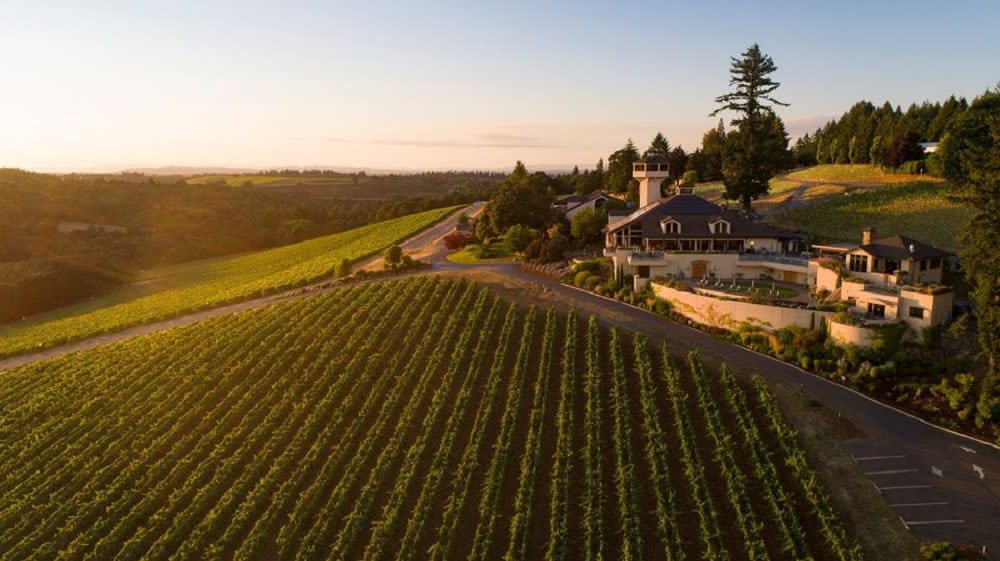 Image courtesy of Willamette Valley Vineyards
Located in Salem Hills,
Willamette Valley Vineyards
offers exceptional views to go along with incredible food pairings and fine wines. Not only can you look over sun-drenched, gorgeous hills on the vineyard's 65-foot lookout tower, but you can unwind on a spacious patio or beautiful courtyard.
This winery is just as beautiful in the winter, and experiencing its transparent igloos,
Willamette Wine Pods
, is a must. There are Willamette Valley listings that give you access to this incredible winery. Whether you're looking for a second home for beautiful vacations or a permanent living situation, choosing the right Willamette Valley realty can make you just minutes away from this exquisite winery.
Tyee Wine Cellars
This family farm
was founded over 130 years ago. The staff comprises fourth and fifth-generation farmers and offers a beautiful tasting room surrounded by oak and hazelnut trees. This winery is known for its rustic charm. Kick back on a picnic table with a delicious glass of wine, and then enjoy an incredible hike through the surrounding forests and wetlands. Be sure to stop by in the summertime to see the wildflowers blooming.
Unlike Willamette Valley Vineyards, Tyee's tasting room is open seasonally and closed during the wintertime.
Sarver Winery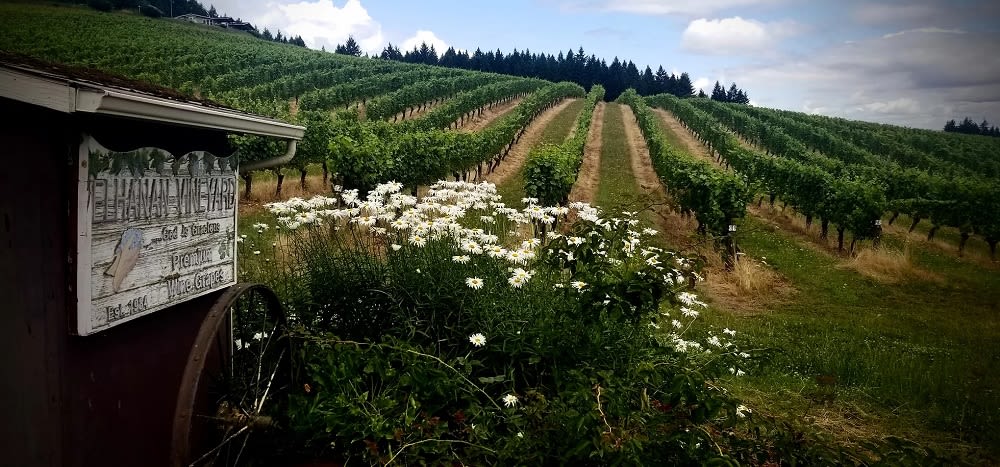 Image courtesy of Sarver Winery
Located in southern Willamette Valley,
Sarver Winery
has a tasting room overlooking the entire vineyard. The scenery stretches past the Willamette Valley, and you can occasionally see some peaks of Cascade Range rising above the eastern horizon.
Visiting Sarver during the summer offers a great variety of outdoor seating, food carts, and live music. Sarver Winery is located in Eugene, about an hour and a half from Salem for an easy day trip. Proximity to wineries like this is just one of the many great reasons to consider buying in the Willamette Valley.
Domaine Drouhin Oregon
At
Domaine Drouhin Oregon
, you can experience beautiful views paired with top-notch wine all year round. This winery offers a cozy covered (and heated) terrace during the winter. In the spring and summertime, flowers in the garden are in full bloom, providing a vibrant and colorful landscape. If you're lucky enough to get a reservation on a clear day, look to the east to see Mount Hood along with more incredible scenery that stretches for miles.
If you're checking out Willamette Valley listings, the Domaine Drouhin Oregon is a huge plus to keep in mind, as you'll have access to a tasting room in the heart of a 235-acre estate that produces world-renowned wines.
Cherry Hill Winery
Image courtesy of Cherry Hill Winery
Cherry Hill Winery
provides some of the most picturesque views of the surrounding vineyards and stunning hillsides. It's nestled within the Eola-Amity Hills and is open May through September.
Guests are welcome to take a walk through the property or enjoy a delicious glass of wine on the patio. Be sure to stop by this winery to experience exquisite pinot noir with a view of beautiful cherry trees and a shimmering lake.
One of the many impressive facts about Cherry Hill is that all the pruning, thinning, and leaf-pulling is still done lovingly by hand, which is pretty rare these days. Treating the vineyards with such tenderness increases the charm and creates more desire for this incredible winery.
Winter's Hill Vineyard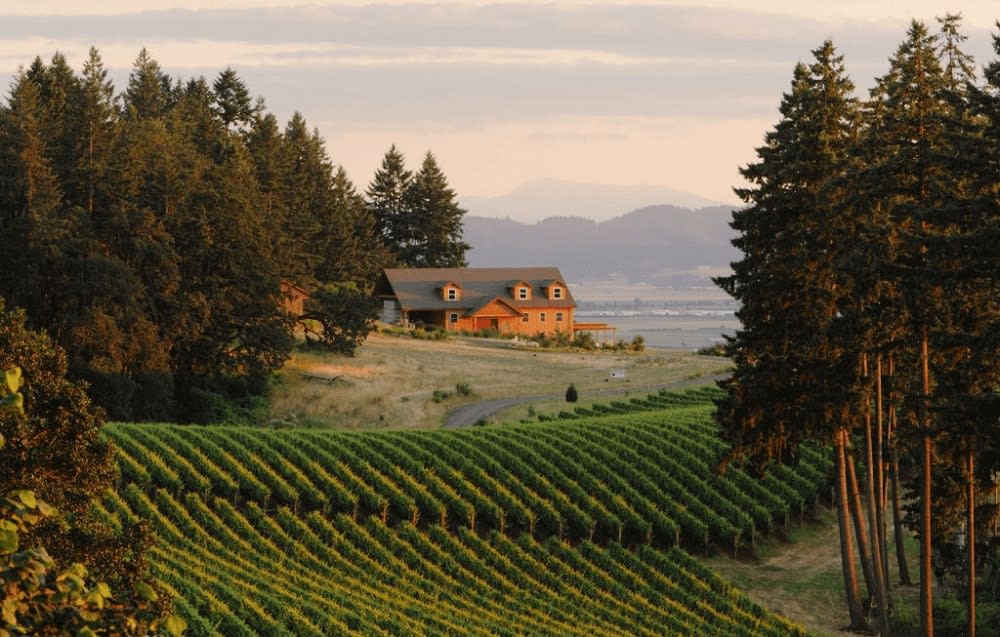 Image courtesy of Winter's Hill Vineyard
The Dundee Hills of Oregon is home to the
Winter's Hill Vineyard
, which has an incredible 360-degree view of fairytale scenery. The tasting room not only offers a delicious selection of wine but also sits on top of a 150-acre farm where you can gaze at beautiful white oak forests. The vineyard's patio is covered and boasts unbelievable views of the Oregon Coast Range. Winter's Hill Vineyard is an incredible aspect of Willamette Valley realty that residents of the area or those looking for a vacation Willamette Valley listings can experience between spring and fall. The Gladhart family runs and owns this winery, and they follow sustainable, organic practices, which make the scenery that much better.
St. Josef's Winery
St. Josef's Winery
is best known for its old-school feel. It is one of the first 25 wineries in Oregon and is nestled in the foothills of Mount Hood. The large brick courtyard perfectly complements its European Old World style and is made even more beautiful by the stunning greenery and exquisite water fountain. There's a small, charming pond near the courtyard where visitors can sip on delicious pinot noir and pinot gris.
St. Josef's is well-received for creating one-of-a-kind, food-friendly wines that are affordable in addition to their reserve wines for special occasions.
Over 90%
of their production comes from their five eco-friendly vineyards — all without using harmful chemicals, pesticides, or irrigation. So not only can you enjoy your glass of wine with impeccable views, but also a sustainably conscious environment.
Willamette Valley listings are desirable for several reasons, including a great housing market. But the wineries are nothing to scoff at, with beautiful views of rolling, sunkissed hills, gorgeous mountains, and colorful flowers found on their world-famous properties. Willamette Valley realty can offer incredible, breathtaking views at any number of wineries in the area. Still, if you're looking for the best, we recommend going to one of the impeccable vineyards listed above.
Live near these Willamette Valley wineries
If these wineries have convinced you to check out Willamette Valley realty, reach out to
Rebecca Donaldson
to find beautiful views of your own.