Just 20 minutes south of Portland, OR, is Lake Oswego—a Willamette Valley community with a quaint, small-town vibe popular with both full and part-time residents.

At the heart of Lake Oswego is the stunningly beautiful 405-acre Oswego Lake. With 40,000 residents, Lake Oswego is bound by a lush, forested landscape and eight of the most sought-after communities in the region. The lake's limited access makes the town one of Willamette Valley's most prized real estate markets.

Like any other real estate transaction, it's vital to do your due diligence before purchasing near Lake Oswego. This need is heightened by competition, and the unique challenges' waterfront property owners face once they've closed on a home.

The following details the information you'll need before searching for waterfront homes in Lake Oswego.
Understanding the Lake Oswego real estate market

At first glance, Lake Oswego looks like many other luxury waterfront communities. Stunning homes encircle a large recreational body of water with all the amenities an upscale community needs nearby. However, access to Oswego Lake is limited, and where you buy determines the reliability of your access to the water. There's a public swim park on the lake's eastern edge, open to the City of Lake Oswego residents. Access to the lake itself for any other purpose is limited to the non-profit Lake Oswego Corporation (LOC) members.

Made up of approximately 3,700 homeowners living on or near the lake, the LOC is funded by property owners with deeded access to the lake and is responsible for the overall maintenance of Oswego Lake and its related infrastructure. This includes, but is not necessarily limited to:
Water quality

Water levels

Safety

Dredging

Boat and operator licensing

Lakefront building permits

Special events

General infrastructure—including three dams and a power generation facility
The above operations also include staffing for various responsibilities, including neighborhood watch, water maintenance, and at the lake's marina. Private access to the lake is limited to those with easement rights. There are currently 20 easements covering the 3,000 properties without direct lake access. This essentially allows those who don't purchase property directly on the lake to access it.
Ultimately, if you want to use Oswego Lake for boating or recreational use, including access to a boat slip, you must be a member of one of the easements.
Understanding Oswego Lake's easements

If you want to live on the lake, are satisfied with the views, location, and neighborhoods, and do not need or want to access the water itself, you don't have to join an easement. In fact, several easements may have long waiting lists, while others may not offer the appropriate slip for the specific boat you want to dock—or offer any slips at all.

If you want to access Oswego Lake, you'll want to perform some due diligence before buying a home to ensure your new property meets your needs. An experienced, trusted real estate agent can help you sort through the specifics during your home search.
Some key points to keep in mind include:
There are two sets of fees involved with registration with an easement. The first is with the LCO, and the second will be through your easement.



Fees, rules, and regulations vary significantly between each easement. Depending on which easement your lake access is through, you could pay anywhere from $250 to $5,000. An easement may also have additional fees and dues based on the list of amenities and services provided.



You should always work with a local Lake Oswego real estate agent. They can make sense of the various easements and how they may impact your specific purchase in the neighborhood you want to live in.
Where to live on Oswego Lake

The city of Lake Oswego features 27 distinct neighborhoods. As you might expect with such a distinguished community, they provide an excellent, enviable lifestyle—depending on a buyer's specific needs. Of those 27 neighborhoods, only eight physically border the 405-acre lake. The following eight neighborhoods provide the best lakeside living that Oswego Lake offers.
Blue Heron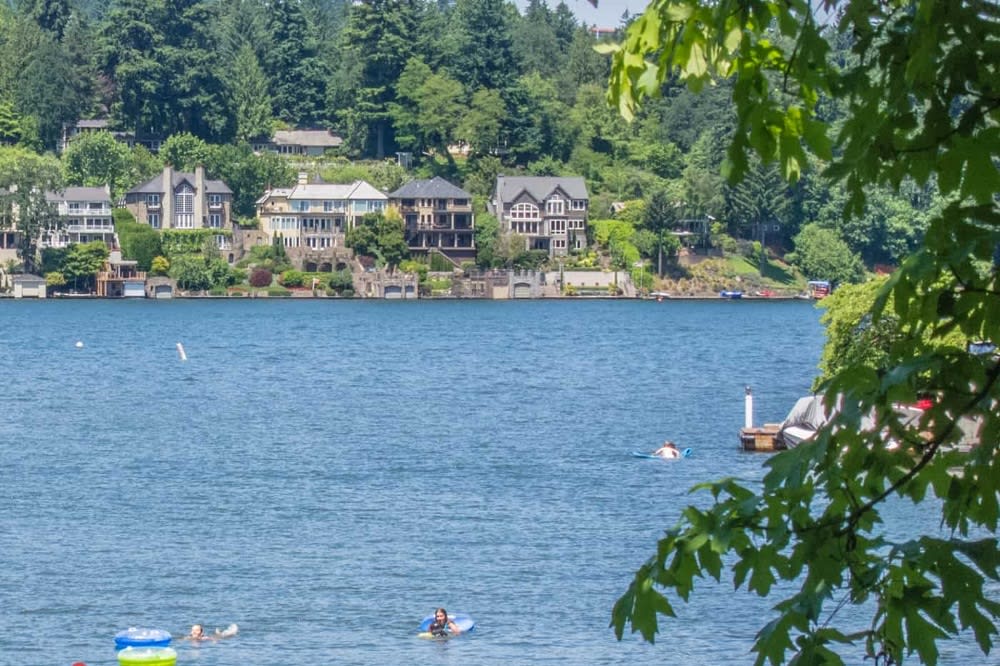 Photo courtesy of SkyBlue Portland
Located on the lake's southwestern corner, Blue Heron's lake frontage is limited to two relatively small enclaves, each with 25 homes fronting the water, including the small Kelok Bay. However, Blue Heron's long, narrow north-south footprint features the lake's two primary canals—Oswego and Blue Heron Canal. The latter is an extension of Blue Heron Bay. Together, these regions provide over a hundred lots of waterfront real estate.
Bryant
To the west of Blue Heron, on Lake Oswego's far western banks, is the large community of Bryant. Lake frontage in Bryant is limited to a handful of large lot estate homes—including some of the lake's most spectacular properties. However, Bryant shares the Oswego Canal with Blue Heron and includes West Bay, an inlet of water that allows for more than 50 waterfront properties. Residents can enjoy the 17-acre
Bryant Woods Nature Park
and the small Lamont Springs Natural Area.
Evergreen
Located on Oswego Lake's easternmost point is Evergreen. Along with Lakewood, Evergreen offers easy access to one of the city's most popular commercial areas. Though the waterfront homes in this neighborhood sit on Lakewood Bay and not directly on Oswego Lake, Evergreen is near several of Oswego Lake's best recreational areas.
Millennium Plaza Park
,
Oswego Lake Country Club
,
Foothills Park
, and the
Tryon Creek State Natural Area
are all less than ten minutes away.
Lakeview-Summit
What many consider Oswego Lake's most luxurious enclave, Lakeview-Summit offers almost exclusively waterfront estates. Lakeview-Summit boasts expansive homes with picturesque views. Those that don't provide views or direct access to the lake are within easy walking distance. Residents can access the small but peaceful two-acre
Beth Ryan Preserve
within the neighborhood or the 51-acres of Iron Mountain Park in neighboring Lake Grove. Homes rarely come available in Lakeview-Summit, and when they do, they don't linger on the market for long.
Lakewood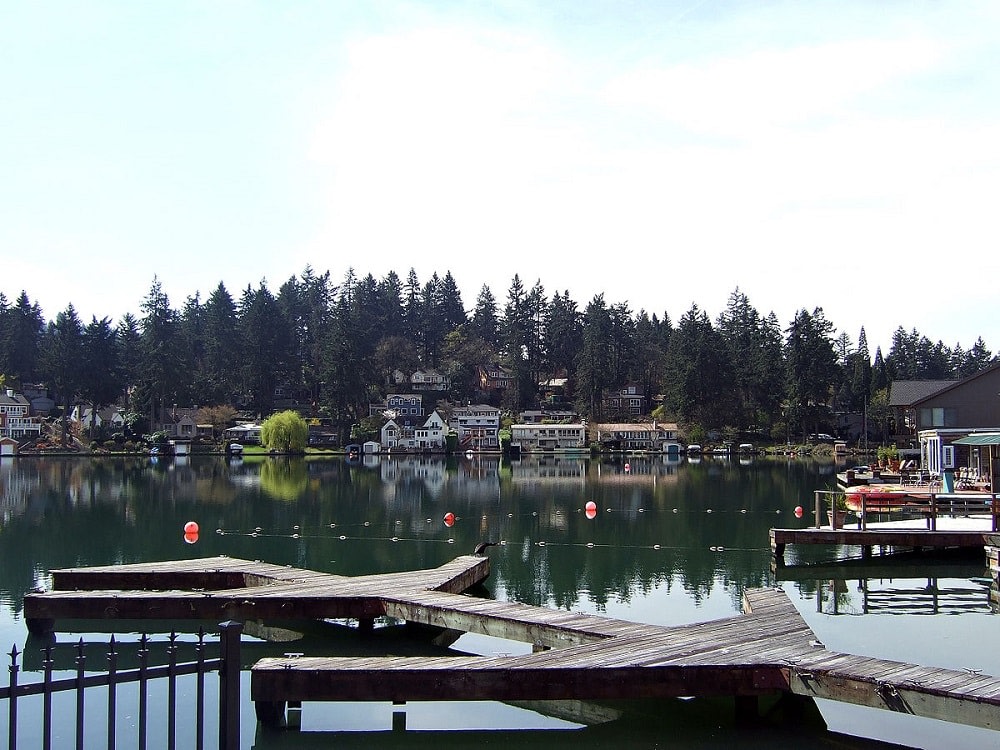 Essentially a peninsula surrounded by Oswego Lake and Lakewood Bay, Lakewood offers residents a stylistically unique neighborhood within the Lake Oswego real estate market. This is thanks to its architectural aesthetics. Many homes in Lakewood date back to the 1940s, with the entire neighborhood seemingly tucked under a lush, green canopy. Lakewood as a whole is less than a 15-minute walk from the Lakewood Center of the Arts.
McVey-South Shore
Arguably one of Oswego Lake's most diverse neighborhoods in terms of housing and lifestyle, McVey-South Shore boasts some of the region's largest and most opulent lakefront mansions. Residents can directly access the nine-acre South Shore Natural Area, six-acre
Freepons Park
, and the three-acre Cornell natural area. There is also a small commercial district along McVey's southeastern border.
North Shore Country Club

For golfers and socialites alike, the primary draw of living in North Shore is the private Oswego Lake Country Club. Occupying the neighborhood's northern region, there are very few homes in this neighborhood, which equates to spectacular residences on massive lots. On the water or the golf course, every home in North Shore occupies a highly coveted piece of real estate.
Palisades

Palisades, the largest community bordering Oswego Lake, feels like a small rural town. There's a wide variety of housing and lifestyle options within the community—with the largest along the lakefront. Several schools are located within the neighborhood, including Lakeridge High School and the 42-acre Cooks Butte Park. Formerly the home of Lake Oswego Public Golf Course, the site will feature a 9-hole course, park, and aquatics center opening in 2024.
Are you hunting for Lake Oswego homes for sale?
If you're ready to explore what Lake Oswego and the surrounding communities have to offer,
contact local realtor Rebecca Donaldson today
. From Lake Oswego luxury real estate to Willamette Valley homes for sale, allow Rebecca's experience and expertise to be your guide to buying or selling in Oregon's luxury real estate market.