Working in real estate is rewarding in many ways. For myself, one of the benefits is a chance to work with
Homes for Heroes
. This national organization helps heroes in the military, EMS and law enforcement, as well as firefighters, healthcare workers, and teachers, become homeowners. I wanted to share more about this organization and what it means to work with heroes in the Willamette Valley.
What is Homes for Heroes?
Home for Heroes, Inc
. is the largest organization in the nation, composed of real estate, mortgage, and local business specialists. It was founded on the principle of giving heroes, such as firefighters, EMS, law enforcement, military, healthcare workers, and teachers, great savings on homes.
Because
home prices
are rising in many areas, including the Willamette valley, the high costs of buying a home can dissuade people in professions like healthcare, military, or education from becoming homeowners. But with Homes for Heroes, whose goal is to honor heroes who are actively working, retired, or reservists (if in the military), they can make their dream home a reality.
This is seen as a way to give back for everything our heroes do. The list of who Homes for Heroes can provide service to isn't exhaustive, so if you're not sure whether you qualify for the program, be sure to contact Homes for Heroes directly to see if you're eligible. You could save on costs like title fees, home inspections, and real estate agent commissions.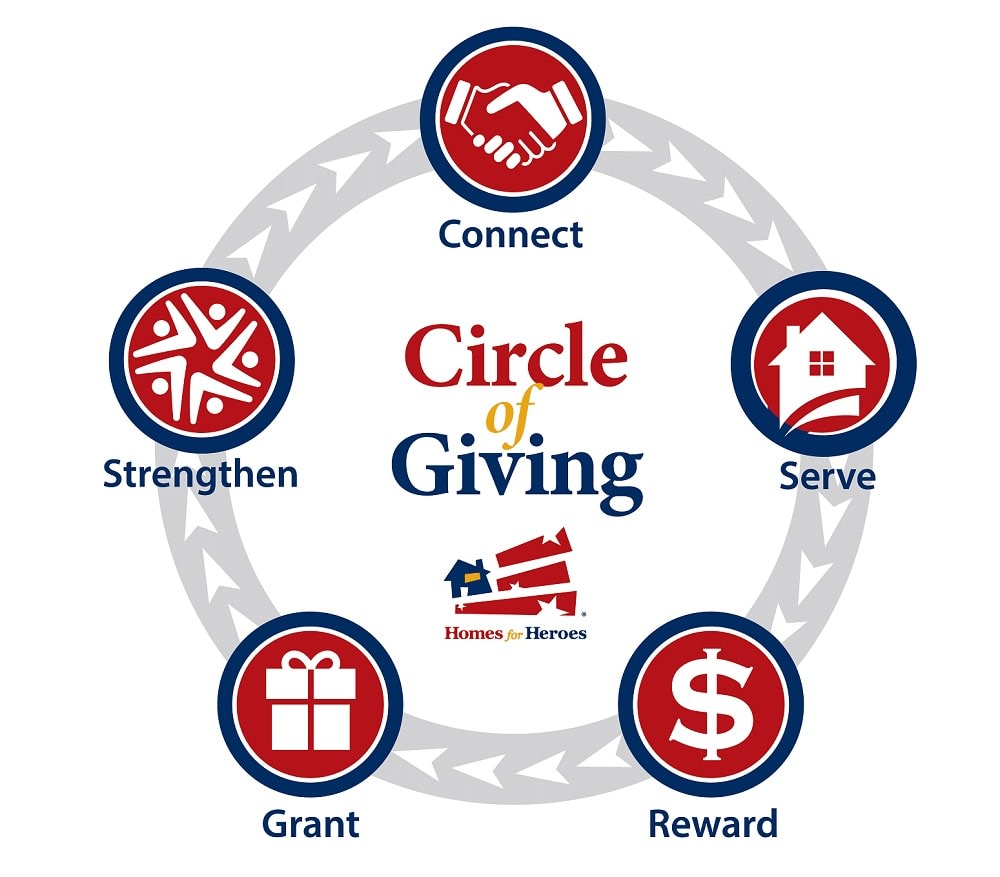 Image courtesy of Homes for Heroes
Buying with Homes for Heroes
As a "
hero home buyer
," you typically receive .7% of the selling price. So, if you're buying a home for $500,000, you get a $3,500 check at closing to help you purchase whatever you need for your new home. Furthermore, you get up to $750 credit on all lender appraisals, so you won't have to worry about any charges on appraisals from affiliated mortgage lenders.
Today's real estate market can be daunting for most home buyers. But for those heroes dreaming of Willamette Valley homes for sale, don't hesitate to reach out about what you're entitled to. As a service provider program, there are various benefits that can provide for you and your family.
Selling with Homes for Heroes

When you sell your home with me using Homes for Heroes, the affiliate agent listing your home gives you a 25% credit on their gross commission. This can get you thousands of dollars in savings and increase your profit on the sale. This is one of the most rewarding aspects for me as a listing agent. If you're looking to list your own home, I invite you to get in touch with me. I'm always happy to help.


I am proud to be part of the team of specialists in Willamette Valley real estate who are community-invested, licensed, and trustworthy. Home for Heroes selects agents who have years of experience selling and staging homes, and it has been my pleasure over the years to add my own experience. Homes for Heroes also donates a portion of earnings to their
Homes for Heroes Foundation
to better serve the community. So anytime a hero decides to buy or sell their home with Homes for Heroes, a hero in need benefits from the transaction.
Homes for Heroes Foundation

The Homes for Heroes Foundation was created to serve local heroes in dire need of financial assistance or facing a housing crisis. Homes for Heroes covers all Foundation expenses while also donating its earnings to the organization. The Foundation focuses on areas such as:


Housing crisis: Striving to end homelessness in hero communities by giving support and strengthening local systems and organizations.



Disaster relief: Helps first responders and their families facing a financial crisis and assists other organizations that offer support when disaster strikes.



Health and family: The Foundation has provided funding for a "Home-away-Suite" at the #1 Midwest Trauma Hospital to house families of first responders receiving care and recovering.
The Homes for Heroes Foundation completes the
Circle of Giving
, which strengthens America's communities by helping American heroes in need and supporting community programs, organizations and businesses. The Circle of Giving starts by connecting a hero with an agent, then serving them, rewarding them, providing a grant for the Foundation, and strengthening the community.
Heroes looking to buy or sell in Willamette Valley realty will greatly benefit from Homes for Heroes, Inc. You could make incredible savings on Willamette Valley homes for sale. And with the strong seller's market, you can make even more money than you usually would when selling your home with Homes for Heroes. For agents, lenders, or business specialists wanting to serve their communities and make their businesses grow, signing up to work with Homes for Heroes is a perfect way to make your business stand out.


If you're looking to find a way to work alongside an incredible organization or buy or sell your home,
get in touch
to learn more about the incredible benefits.
If you have more questions about Homes for Heroes or are looking for Willamette Valley real estate, reach out to local agent
Rebecca Donaldson
.

*Header Image courtesy of Homes for Heroes