Family is the Motivation Behind Gold Winner's Success
"It's been a hard road, but I wouldn't change anything," begins Rebecca Donaldson as she begins to share her journey to becoming one of the most trusted, award-winning Real Estate Brokers in the area.
When her daughter Peyton was born, Donaldson's life took some unexpected turns. Weeks after Peyton's birth it was determined that Peyton would need a heart transplant, without it, she ultimately would not survive.
​​​​​​​

Successful people are driven, determined, and willing to work hard at each challenge they face. Donaldson is no exception. She entered the workforce at 15, and always was motivated. Although with age and life situations her motivation changed.
​​​​​​​

Already a mother of a nine-year-old boy, Donaldson's next steps were an easy decision. She would do whatever it took to save Peyton's life she put her career on hold to ensure her daughter received the best care possible.
​​​​​​​

On Halloween night, 2003, Donaldson got a call with the good news that Peyton was put on a transplant list. That night, they flew to Loam Linda, California and were to see renowned surgeon, Dr. Leonard Bailey who would perform the transplant. On Thanksgiving Day, her daughter's transplant was complete. Donaldson was ready for the next challenge.
​​​​​​​

For the next 18 years, Peyton was in and out of hospitals and treatment. Donaldson began exploring career paths that would support her family. She learned medical transcription and worked in an intensive care. She also worked as a paralegal. Both jobs required a great deal of customer interaction, a skill that would translate into her real estate career.
​​​​​​​
"I needed to take control of my own destiny," Donaldson said when talking about her current career as a Realtor®. Donaldson comes to the real estate industry having watched family members that were in the business.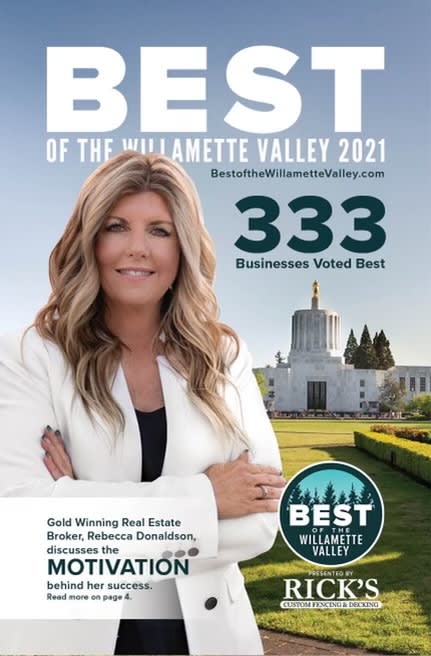 Determined, she received her real estate license in 2015 and immediately began to take on another new challenge working with Windermere in Salem.

​​​​​​​"Some days I had to choose between feeding myself or putting gas in my car to drive out to a listing," she said. With a lot of hard work in long days, Donaldson was able to make a name for herself Donaldson was invited to join ELEETE Real Estate in 2018 and has been voted Best Real Estate broker in Willamette Valley.​​​​​​​
"I'm a go getter," Donaldson said. She constantly picks up new skills and takes advantage of every opportunity possible, like taking a course from Ryan Serhant of Million Dollar Listing, New York in November of 2019. From that, Donaldson was one of 17 Realtors from around the world personally handpicked by Serhant for an Inaugural Mastermind dinner in New York. Through this experience, she made critically important connections and continues to mentor with Serhant to better her skills.
​​​​​​​

Now when someone in the Willamette Valley h turn ears the name Rebecca Donaldson, they'd think of a larger than life successful Realtor®; but it wasn't always like that. Getting to the level of success that Donaldson has reached today was no easy feat.
​​​​​​​

When life gets tough, she keeps her daughter in the forefront of her mind. "It helps me stay driven, determined and focused," concluded Donaldson.